We have a full line of professional label printers and label finishers for any application
From printing and slitting, through laminating and application, we have the professional label printers and label finishers your company needs to produce high-quality labels and experience great return on investment.
Here are some frequently asked questions, and answers, to familiarize you with our line of label printers and label finishers to help you decide where to begin your search.
I only need a few hundred, non-laminated labels each week. Which label printer should I buy?
We recommend our L301 Color Label Printer for small business. It costs less than $2,000USD and delivers the same quality as bigger, industrial printers.
I'm spending around $750.00USD each month for third-party printed, unlaminated labels. What's my best choice?
For you, we'd suggest our L801 Color Label Printer. It can produce up to 14,400 labels per hour, printing on pre-cut label stock. You will be able to pay for your L801 in about 18 months. Our guess is that you will produce more labels because the cost per each will be lower than what you currently pay.
I need many, variable, short runs of laminated labels that are a bunch of different shapes and sizes. Which Afinia Label equipment can help me?
Your best bet would be a combination of our L801 Label Printer, our rewinder, and our DLF-1100 Label Finisher. You would print your labels on the L801, using blank label stock, wind the labels, and finish them on the DLF-1100. The DLF-1100 laminates, plotter-cuts, slits, and rolls labels.
I use my digital offset, Indigo, and flexo presses to print labels. Do you have a higher-volume solution that will reduce my per label cost?
You should check out our DLP-2000 Digital Industrial Label Press. The DLP-2000 prints (using an L801), laminates, rotary die-cuts, slits, and rolls up to 7,200 4″ x 6″ labels per hour. If you have a library of RotoMetrics®, or similar, 12 inch magnetic dies, the DLP-2000 can use them. Also, while running blank label stock in full rotary mode, the DLP-2000 can convert labels at 140 fee per minute.
Have a question about our products or their capabilities? Please don't hesitate to contact us.
---
Featured Equipment:
L801 Color Label Printer
Ultra fast - 60'/min
Industry-leading low cost of ownership
Super high quality and resolution
GHS compliant
Variable data compatible
Ideal for all run lengths
View
L301 Color Label Printer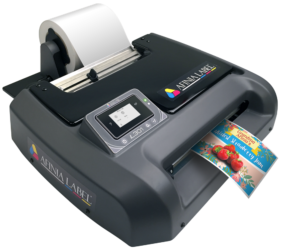 Economical price point
Wide range of label stock compatibility
Ultra high quality and resolution
Variable data compatible
Ideal for short label runs
View
DLF-Series Digital Label Finishers
Digitally cut custom-shaped labels
No need for dies
Unwind, laminate (DLF-220L & 350L only), cut, remove waste, slit, and rewind
Accepts printed rolls of labels
All-in-one system
View
DLF-1100 Digital Label Finisher
Digitally cuts custom-shaped labels
No need for dies
Laminates, cuts, slits, rolls
Accepts printed rolls of labels
Desktop size
View
UW300 Unwinder & RW300 Rewinder
Can be used as standalone units
Dramatically increase roll size & weight capacity
Perfect for longer runs
Uprated, heavy-duty motors
Easy tension adjustment
View
DLP-2000 Digital Label Press
Print, laminate, cut, remove waste, slit, and rewind
Fast - 30'/min.
High quality and resolution
Can convert blank label stock
View
CP950 Carton & Packaging Printer
Ultra fast - 60'/min
Super high quality and resolution
Print directly onto packaging up to 1/4" thick
Great for cardstock, cardboard, paper boxes, and bags coated for inkjet printing
Variable data compatible
View
SR100 Slitter-Rewinder
Accepts rolls up to 8.86" wide
Minimum slit width of 0.87"
Slits at up to 197'/min.
Variable speed control
View
NeuraLabel 300x Label Printer
Ultra fast - 20"/sec
GHS-Compliant
Variable width from 1.5–8.5"
Durable pigment for harsh environments
Easy media loading and operation
View
R635 Color Label Printer
Fast - 30'/min.
GHS & BS5609 compliant
High quality and resolution
Variable data compatible
Ideal for all run lengths
View
Epson ColorWorks C7500
Rugged, low maintenance design
Ideal for high-volume labeling applications
Ultra fast – 60'/min
Optional rewinder
BS5609 certified*
*View
Epson C3500 Label Printer
Compact, robust design for commercial use
High-quality, four-color inkjet printing (CMYK)
Individual ink cartridges for efficient use of ink
BS5609 certified*
*View
Epson C831 Label Printer
Ideal for GHS large format drum and chemical labeling
Industrial-strength MicroPiezo® inkjet printer
First inkjet solution that has been BS5609 certified*
Printable area up to 8.0″ x 22″
*View
DLF-1000 Digital Label Finisher
Digitally cuts custom-shaped labels
No need for dies
Laminates, cuts, slits, rolls
Accepts printed rolls of labels
Desktop size
View
Software
Bartender Basic
Wasatch SoftRIP
View