AP200 Pouch Label Applicator
Top Uses & Applications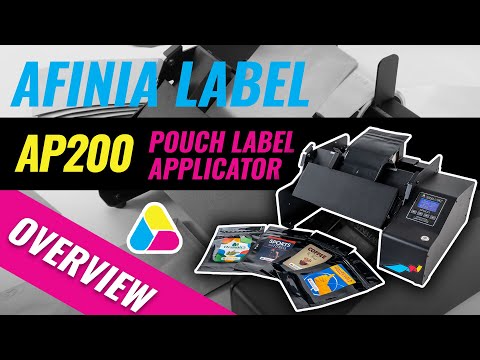 Easily and consistently apply labels to pouches
The AP200 is a semi-automatic labeling machine designed for applying labels to unfilled pouches. Labels are easily applied as each pouch is dropped into the machine. Intuitive setup and operation allows for consistent placement and even application.
The ultrasonic media sensor is easily trained to detect gaps in a wider range of media than mechanical flag sensors common in other applicators, allowing the AP200 to perform consistently—even on thin, clear, or reflective materials.
A convenient calculator tool is available to make correct settings easy.
Designed for flat, unfilled pouches
Apply one or two different labels per container
Works with zippers and degassing valves
Reliable ultrasonic gap sensor
Specifications
Technical Data

Supply voltage
North America - 110V AC, 60 Hz — Europe, Middle East, Asia - 220V AC, 50Hz
Power consumption
<100VA.
Dimensions
17.3" (440mm) W, 9" (230mm) H, 13" (330mm) D
Machine weight
33 lbs (15kgs)
Width of Bag
3.2" (80mm) to 9.8" (250mm)
Length of Bag
4.75" (120mm) to 13.75" (350mm)
Thickness of Bag
<0.2" (5mm)
Width of label
1" (25mm) to 9.00" (230mm)
Length of Label
1" (25mm) to 11.81" (300mm)
Label gap
>0.1 inches (2.5mm)
Diameter of label roll
<7.87 inches (200mm)
Core diameter
2 to 3 inches (50 to 76mm)
Label feed speed
0.03 to 0.1m/sec - programable.
Distance to start labeling from
the edge of the bag
Approximately 1.18" (30mm)
Modes
1 or 2 label modes
Try a Free Sample!
Want to know exactly how your labels will look?
And get a full breakdown of your cost per label?