DLP-2200 Digital Label Press with Inline Rotary Finishing
High Production
Extremely Low
30–60 ft/min (9-18 m/min)
18.1 in (460 mm)
8.5 in (216 mm)
Semi-rotary die (flexible steel)
The gist: Produce fully-finished labels in a single pass. Print, laminate, die cut, remove waste, slit, and rewind to ready-for-use rolls. Ideal for private labelers and large brands needing high volumes of labels and repeat sizes.
Top Uses & Applications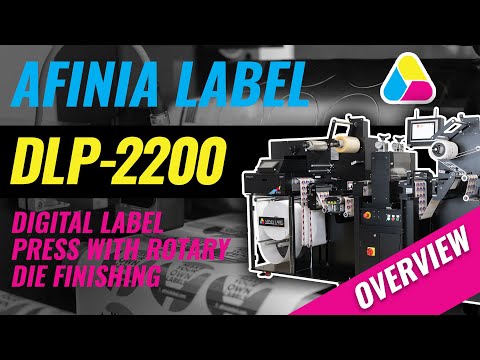 The DLP-2200 is the fastest and most advanced digital label press in its class. Capable of printing, die-cutting, and finishing labels at up to 60 feet per minute, this full-featured workhorse can laminate, die cut, remove waste, slit, and rewind finished rolls that are ready for application.
Large Press Production
The DLP-2200 provides high-end features at a fraction of the cost, making it ideal for private labelers and large brands who need to produce high volumes of labels. With the L901 Digital Label Printer inline, this machine can produce more than 25,000 full-color 3×4-inch labels per hour. Bringing label production in house eliminates the need to outsource labels, resulting in faster turnaround times, greater control and flexibility, and thousands of dollars saved.
With a large roll media capacity of 18.1″ (460mm) outer diameter—or approximately 1000 meters of material—the DLP-2200 is a label press fit for high-volume production.
Simple Operation
No press experience is necessary to operate the DLP-2200. Its intuitive interface makes it easy to control machine status and job controls. In addition, the separate automatic tension controls require less operator intervention, which minimizes the need for a highly-skilled press operator.
Fast & affordable flexible steel dies
Very fast finishing (≤ 12 IPS)
Memjet-powered L901 included
Best for repeat jobs, blank labels
DLP-2200 Details
Inline Lamination
The DLP-2200 has a built-in lamination system, allowing for inline lamination that produces minimal noise and gives labels maximum durability. A sound-dampening roller reduces sound produced by self-wound lamination films. The option to use quiet-release laminate with a liner is also available via the liner rewind mandrel.
Fast Setup & Media Changeover
The DLP-2200 has a simple paper path that makes job setup fast and easy. Its splicing table enables fast media changeover, which is essential for those who need to produce labels using different materials. This reduces downtime and increases productivity.
Digital Web Guide
The DLP-2200's digital web guide ensures precise cutting and clean rewind, making it easy to produce high-quality labels. With this feature, the machine can accurately position the die, ensuring that the labels are cut precisely.
Flexible Die Accommodation
The DLP-2200 has an 18-inch magnetic cylinder that can accept affordable flexible steel dies. These dies are low in cost and can be quickly created, allowing for fast changeover between jobs. The machine also has easy die alignment, which makes it easy to align the dies with the registration marks.
Pressure-Accurate Gauges
The DLP-2200 has pressure-accurate gauges, allowing for precise die pressure control. This feature ensures that the labels are cut accurately and consistently, which is essential for producing high-quality labels.
Easy Weeding
The DLP-2200 provides waste removal options for different shapes, making it easy to remove the waste from the labels. With this feature, the machine can quickly weed out the waste, ensuring that the labels are clean and ready for application.
Inline Slitting
The DLP-2200's inline slitting feature makes it easy to separate narrow rolls of labels. With this feature, the machine can quickly slit the rolls, which reduces the need for a separate slitting process.
Split-Mandrel Rewind
The DLP-2200 has a split-mandrel rewind feature, ensuring clean, tight, and consistent finished rolls. This feature allows the machine to produce finished rolls that are easy to remove from the press and are ready for application.
---
The DLP-2200 Digital Label Press with Inline Rotary Finishing is a powerful machine that is perfect for high-volume label production. Contact us today to get an instant ink cost estimate, request a printed sample, or learn more about how this machine can benefit your label printing needs.
Specifications
Print Speed

6" to 12" per second (IPS) / (9m to 18m per min)

Print Quality
1600 DPI full-color output
Web Width
3.94" (100mm) to 9" (229mm)
Max Print Width
8.5" (216mm)
Media Capacity
18.1" (460mm) max outer diameter (approximately 1000 meters)
Core Sizes
3" (76mm)
Web Guide
Digital automatic (no collars)
Max. Laminate/Liner OD
9.84" (250mm)
Laminate
Self-wound or supported laminate (on a liner). Liner removal mandrel included
Cutting Dies
Flexible steel; from 5.5" (140mm) to 14.17" (360mm)
Max. Diecutting Width
8.5" (216mm)
Max. Diecutting Length
14.17" (360 mm)
Die Head Lateral adjustment
1.97" (50mm)
Registration Sensor / Mark
Laser / 0.2" x 0.2" (5mm x 5mm)
Max. Finished Label Rewind
15.74" (400mm)
Max. Waste Matrix Rewind
11.8" (300mm)
Razor Slitter Assembly
3 inter-label knives
Razor Slitter Lateral Adjustment
0.47" (12mm)
Dimensions
111.5" (283 cm) W x 65.35" (166 cm) H x 28.35" (72 cm) D
Frame
0.4" (10mm) solid aluminum
Safety
Emergency stop button
Loop
Photoelectric distance sensor
Power
220V – 6A / 110V – 12A
Weight
Total 1474 lbs (669kg) = Printer/Unwind 518 lbs (235kg) + Rotary/Rewind 956 lbs (434kg)
Control
PCB. Inverter, Encoder, Touchscreen control panel
Afinia part numbers
DLP-2200: 39701
L901 Printer: 29698
Black Ink: 26730
Cyan Ink: 26723
Magenta Ink: 26716
Yellow Ink: 26709
Try a Free Sample!
Want to know exactly how your labels will look?
And get a full breakdown of your cost per label?