Reduce overheads and limit risk
Outsourced label printing is expensive with minimum orders, processing & delivery fees, high markups, and charges for any change requests. Delays and limited flexibility can also hamper your bottom line and absorb a huge amount of time.
Secure your margins and enjoy the benefits of rapid, flexible label production with an in-house printer from Afinia Label. 
Craft the most eye-catching product for customers 
Drinks buyers always judge the book by its cover. First they see the label, then everything else. Quality packaging is a vital marketing weapon. That doesn't have to mean fancy – the print stock, finish, adhesive, and design all depend on your product. 
Printing in-house gives the flexibility to print only what you need, when you need it, and not a label more. This makes it cost-effective whether you're selling premium spirits or store-brand soda.
Variable Data
Variable data like dates, batch numbers, ingredients, allergens, and serving suggestions are all fully automated with Afinia label printers. Simply select the relevant product and the printer does the rest. 
Craft
Craft products need to leap off shelves and catch attention. Brainstorm ideas, rapidly test them, and quickly print your new labels in record time.
Affordable
In-house printing is substantially cheaper than outsourcing. Benefit from huge savings on even your simplest labels by producing them on-site.
Adapt faster for promotions, offers, and marketing
Launching seasonal offers, flash sales, or limited editions requires flexibility and fast label production. Use your in-house printer to rapidly iterate designs, list product information, then print & affix your labels days or weeks faster than an outsourced order. 
Want to generate social media buzz or react to a trending event? Create a unique label and have the snaps online within minutes. Use your printer to enhance your marketing, sales, and production capabilities.
Fridge-safe and robust labels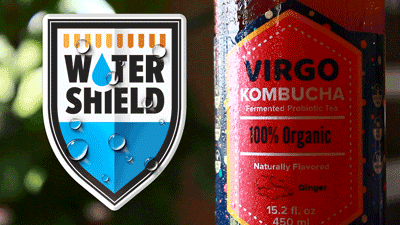 Some drinks need to endure cycles of hot and cold temperatures, condensation, moisture, oily skin, and rough handling. Labels must still show minimal signs of wear and remain stuck in place, while also peeling off for easy recycling. 
The requirements for beverage labels are wide and varying, and choosing the best paper stock, finish, and adhesive is crucial to executing a great product. We advise all customers on best practices for their labels, from buying the machine to printing tips. 
Water-Resistant Labels with Watershield™ Technology
Providing significantly more water-resistance than other dye-based prints1, Watershield Technology provides peace of mind knowing your labels will survive the refrigerator. This makes the Afinia L801 Plus or L901 Plus the perfect companion for printing beverage labels.
Eco-friendly recyclable paper + plastic labels
Environmental impact has become a top priority for drinks manufacturers. Our label printers can use eco-friendly and recyclable paper and plastic labels to help meet sustainability targets. With most drinks vessels already recyclable, it's important that labels are equally green. 
Of course you can still print in any size, color, shape, or quantity you need – you're just doing a little more for the planet as well. 
1  Water resistance can be media-dependent. Always test your printed label to be sure it meets your requirements.