X350 Digital Roll to Roll Press
Top Uses & Applications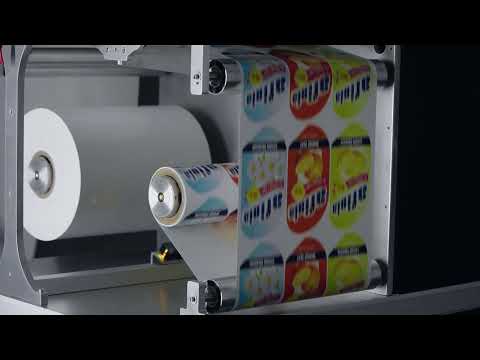 The X350 is the perfect choice for high-volume digital roll to roll printing
Meet the X350 Digital Roll to Roll Press, a high-speed, versatile, and durable printing solution that's perfect for production-level inkjet roll to roll printing. With a print speed of up to 25 meters per minute and a large media capacity of 350mm roll diameter and width, the X350 can handle a variety of media sizes and types with ease. Plus, its compact design (under 1 sqm footprint) makes it easy to integrate into any production environment.
Achieve vibrant, professional-quality prints on die-cut or continuous label materials and flexible packaging films for a wide variety of product applications.
Here's a quick overview
Food-safe* CMYK inks
Small footprint, low energy usage
Up to 25m/min print speed
Print labels or flexible packaging films
* Food migration tests pending
X350 Details
Versatile Capabilities
The X350 is more than just fast and efficient – it's also highly versatile. It can handle a range of printing projects, including continuous labels, die-cut labels, and flexible packaging materials. With the X350, you can expand your printing options and take on new projects with confidence.
Durable Pigment Inks
Safety is a top priority when it comes to food packaging, which is why the X350's durable pigment inks are designed for indirect food contact. They are also BS 5609 certified and resistant to water, UV, and other elements, ensuring that your prints will last for a long time. The X350's pigment inks are also safer and less polluting than solvent-based ink formulations, making them a great choice for environmentally conscious businesses.
Large Ink Tanks
Keep your X350 running smoothly with large ink tanks – each one holds 2L of CMYK ink, and there's an optional 5L upgrade available. This extended ink capacity helps to reduce downtime and keep your printing operations running smoothly.
Energy Efficient
The X350 is not only good for your business, but it's also good for the environment. It uses less energy than competitor digital presses, saving you money on energy costs while still delivering high performance.
Nozzle Redundancy
One of the key features of the X350 is its nozzle redundancy, which ensures consistent print quality and flat colors every time. With this feature, you can trust that your prints will look great, no matter how large your printing project is.
User-Friendly Interface
Operating the X350 is a breeze thanks to its user-friendly 21-inch touchscreen interface. It's packed with advanced features and connectivity options, making it easy to manage your printing jobs remotely. With the X350, you can easily access job management, diagnostics, support, and updates/upgrades from any location.
Optional Upgrade
Take your X350 to the next level with the optional inline slitter attachment, which allows you to slit down to more narrow rolls with ease. This upgrade is perfect for businesses that need to produce narrow labels or packaging materials.
Cloud-Based RIP Software
The X350 comes with powerful cloud-based RIP software that provides advanced print and color control, including variable data capabilities. This software makes it easy to streamline your printing process and achieve precise results every time.
Contact Us for Pricing and Request a Free Printed Sample
Are you ready to take your printing operations to the next level with the X350 Digital Roll to Roll Press? Contact us for pricing and request a free printed sample to see the X350's capabilities for yourself.
Specifications
Ink type

Aqueous inkjet — Pigment

Ink capacity
2L per tank (CYMK), 8L total
Printhead
2x nozzle redundancy;
User-replaceable
User interface
21" Touch Screen
RIP software
Basic RIP included;
Optional modules available
Print width
12.77 in (324.4 mm)
Print speed
Variable, Up to 18 in/sec (460 mm/sec)
Print resolution
Up to 1600x1600 dpi
Media width
Min: 2 in (50 mm);
Max: 13.75 in (350 mm)
Media thickness
Min: 2 mil (0.05 mm);
Max: 13.75 mil (0.35 mm)
Media type
Gap (die cut), Black mark, Continuous
Input roll max diameter
13.75 in (350 mm)
Air requirements
Ultra-quiet compressor included (integrated)
Power
Single phase 220V, 12A
Web slitters
Optional add on
Dryer
Optional add on
Operating temperature
59–95 °F (15–35 °C)
Storage temperature
Machine: -13–140 °F (-25–60 °C);
Printhead / Inks: 23-113 °F (-5 to 45 °C)
Humidity
20-80% RH
Applications
Labels, Flexible packaging
Try a Free Sample!
Want to know exactly how your labels will look?
And get a full breakdown of your cost per label?