L701 Digital Color Label Printer

2,500–20,000 labels/month
Low
Dye
Fast
8.5 in (216 mm)
6 in (150 mm)
The gist: Our lowest initial cost offering with Memjet technology. Print high-impact, full-color labels at high speeds without breaking the bank. The L701 is a great fit for multiple-printer installations or mid-range production.
Top Uses & Applications
Affordability without compromise
The L701 Color Label Printer—our lowest initial cost offering with Memjet technology—allows you to print high-impact, full-color labels without breaking the bank. The L701 is a great fit for multiple-printer installations or applications where high performance, low initial investment, and a smaller footprint are all required.
The intuitive L701 is a great option for small- to mid-sized companies looking to print their own full-color labels in house. The Memjet-powered stationary printhead provides speed, industrial reliability, and stunning image quality. Five large (200ml CYMKK) ink cartridges offer low label costs and high return on investment, making the L701 ideal for short- to medium-range print runs for retail, inventory, and product identification applications.
Mid-volume printing
Medium-fast print speeds (≤ 8 IPS)
Low ink costs
Lowest initial cost Memjet printer
L701 Details
High Quality & Resolution
Get all the benefits of Memjet in a consolidated form factor. Memjet's stationary "waterfall" printhead technology allows for blank label material to move quickly through the printer while maintaining excellent print resolution. Print at up to 1600 x 1600 dpi for vivid, eye-catching labels. By using CMYKK, the L701 offers exceptional color and rich blacks, giving you the ability to print with excellent contrast.
Included Unwinder
The L701 includes a unwinder attachment that accepts rolls up to 6 inches (150 mm) in diameter. Roll media is consistently and evenly fed media to the printer.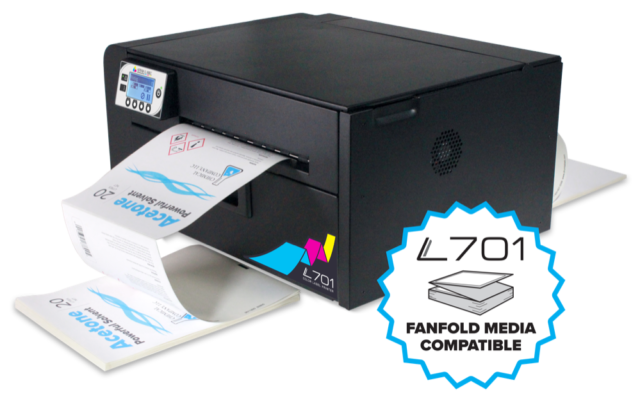 Fanfold Media Support
The L701 is perfect for use with fanfold media. Simply remove the roll rewinder attachment and place a stack or box of inkjet-compatible fanfold labels behind the printer. Feed it in as normal, and print. A clean stack of finished labels is created as the first few fall into place.
Low Label Costs
The Afinia Label L701 holds five large 200mL ink cartridges to support mid to long runs while reducing per-label costs. You can send us your artwork to see how much you can save, or see how the L701 has a great return on investment
Specifications
Printer

Print method:
Memjet Waterfall Printhead Technology® 11 Integrated Circuit (IC) Chips – 70,400 nozzles (6,400 per IC Chip)
Inks:
Dye-based, 200mL CMYKK cartridges (1000mL total)
Print resolution:
1600x1600 dpi or 1600x800 dpi
Print speed:
6"–8" per second (152mm–203mm)
Print width:
8.5" (216mm)

Media

Media types:
Compatible with a range of paper, polyester, polypropylene, and vinyl label stocks
Media width:
2"–8.5" (50.8mm–216mm)
Media length:
2"–40" (50.8mm–1016mm)
Thickness:
Minimum 0.005" (0.13mm) Maximum 0.01" (0.3mm, including liner)
Maximum roll diameter:
6" (152mm)
Core diameter:
Requires 3" (76.2mm) cardboard core
Media sensors:
Gap, continuous, black mark
Die-cut label gap:
Minimum 0.125" (3.0mm) Maximum 0.3" (8.0mm)
Black mark:
3mm wide, 25.4mm long, Left side position

General

Cutter/sheeter:
Powered
Interfaces:
USB 2.0, TCP/IP (Manual IP configuration or DHCP), GPIO available for external device control
Operating system:
Windows 7+ (32 and 64 bit)
Barcode font:
1D Barcode at least Grade B (Code39) with 10mils bar width
Two-dimensional code printing:
2D Barcode at least Grade B (PDF417) with 10mils cell size
Operating temperature:
59°–95°F (15°–35°C) at RH 20–80%
Storage temperature:
23°–113°F (-5°–50° C) at RH up to 85%, non-condensing at 65°
Dimensions – w/ unwinder:
21.6" (549mm) W x 26.7" (679mm) D x 11.2 " (285mm) H
Dimensions – printer only:
20.1" (510mm) W x 15.2" (385mm) D x 11.2" (285mm) H
Weight – printer only:
66lbs (30kg)
Rated voltage:
AC 110V – 220V
Rated frequency:
50–60Hz
Agency Certifications
CE, FCC, CCC, UL
Warranty:
One year
Afinia part numbers:
L701 Printer: 31854
Unwinder: 30762
Rewinder: 31336
Black Ink: 30300
Cyan Ink: 30314
Magenta Ink: 30321
Yellow Ink: 30307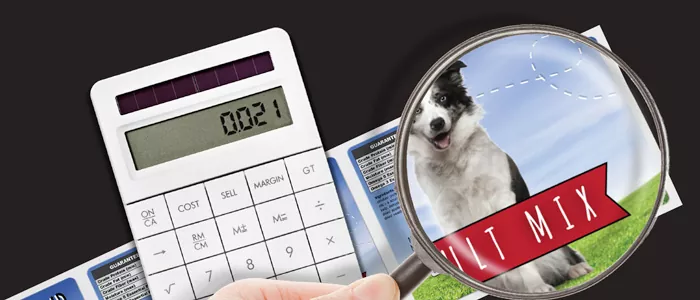 Try a Free Sample!
Want to know exactly how your labels will look?
And get a full breakdown of your cost per label?