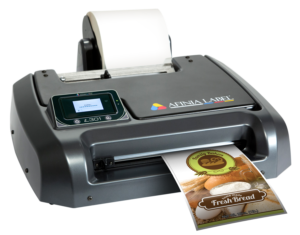 If you are considering bringing your label printing in-house using an LX500 you might want to investigate the Afinia Label L301, as there are a number of significant differences.
First, out of the box, the Afinia Label L301 can print labels as wide as 6″, and up to 8.5″ if you choose to purchase the optional unwinder. The LX500 prints up to 4″ wide.
Second, the L301 has a black pigment ink cartridge and a CMY dye ink cartridge. This gives you the best of both worlds: durable black printing (usually used for text such as ingredient labels and barcodes), and rich colors by using a mix of black, cyan, magenta, and yellow inks. The LX500 uses a single, dye ink CMY cartridge that must be replaced when one color is exhausted. Also, in our opinion, mixing CMY inks to make black does not produce colors that are as deep and rich as using black ink. In addition, since black is a very common color used in label designs, you only need to replace the black cartridge when it is empty, and not the separate CMY cartridge.
The speeds and print resolutions are about the same for both printers. It's best to watch your label design print on both machines and conduct your own time measurements.
Printing your labels in-house has several advantages:
Print the exact amount of labels when you need them
Avoid third-party setup and plate charges
Avoid purchasing high minimum quantities of labels
Avoid lead times
Avoid discarding labels that are out-of-date
You are most able to determine which label printer is right for you. We suggest that you get your label design printed on the same label material on both printers. Also, make sure that you get the ink cost/label. Specifications for the Afinia Label L301 can be found here.
Armed with those pieces of information you will be able to make the right decision.
All trademarks are the property of their respective owners. All product specifications are from the respective manufacturer's websites and/or promotional materials and may change without notice.
Afinia Label is not affiliated with the manufacturer of the LX500.