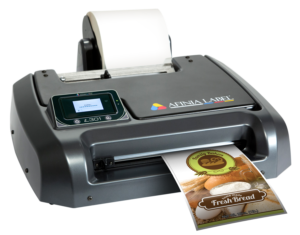 If you are considering an LX900 you may wish to consider the Afinia Label L301.
Depending upon where you have received your LX900 price you may find the L301 to be hundreds of dollars less expensive. The print resolutions are about the same. If you need to print really long labels, the L301 can print labels up to 48″, the LX900, 17″.
The Afinia Label L301 can print labels up to 6″ wide, and up to 8.5″ wide if you purchase the optional rewinder. You can see all of the L301 specifications here.
The L301 Label Printer is designed for small businesses owners who have decided to move their label printing in-house. There are a number of reasons for doing so:
The ability to print the exact quantity of labels when they are needed
Avoiding label printing lead times
Avoiding label inventory
Avoiding discarding out-of-date labels
The ability to modify label designs on-the-fly when ingredients or regulations change
The Afinia Label L301 is based upon HP's proven thermal inkjet technology. Users will find the printer software interface to be quite similar to that installed with HP desktop printers. Setup is very similar, as well. Just plug it into your computer, install the included software, and you are ready to print labels from Windows, using your existing label design application, or from a pdf.
To make the best decision, have each manufacturer send you a print sample, on the same stock, and an ink cost/label. If possible, you should see each printer in action, printing your label design. That way, you can determine how many labels each machine can print in a given amount of time.
All trademarks are the property of their respective owners. All product specifications are from the respective manufacturer's websites and/or promotional materials and may change without notice.
Afinia Label is not affiliated with the manufacturer of the LX900.