With the ability to utilize both pigment and dye-based inks, the Afinia Label L501 with DuraPrime™ Duo Ink Technology is the first of its kind.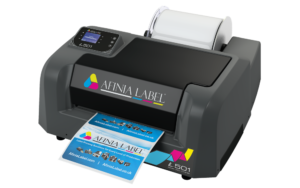 Afinia Label, a manufacturer and distributor of industrial color label printing and finishing equipment, is announcing the release of the L501 Color Label Printer for Durable Applications. The L501's DuraPrime™ Duo Ink Technology enables an easy transition from dye-based to pigment-based ink, offering a level of versatility unmatched by any other printer in its class. This ability to use both pigment and dye inks provides companies the flexibility to produce high-quality, low-cost labels for almost any application.
Resolving Pain Points for Prime and Durable Applications
"The L501 was created specifically to solve a difficult pain-point for manufacturers that require labels for both prime and durable applications. It offers significant cost savings by eliminating the need for either outsourcing printing or investing in two separate printers," explains Mike Atkins, National Sales Manager for Afinia Label. "The L501 brings an additional advantage to those companies previously outsourcing their labels, providing flexibility to adjust label designs and content on the fly."
Savings and Simplicity
The combination of price point, quality, and ease-of-use really sets the L501 apart from other printers on the market
With a sleek, compact design, the L501 Color Label Printer fits into virtually all production spaces. The value of the L501 is most notable for small- to mid-sized label applications, with low per label ink cost due to separate CMYK cartridges. An optional rewinder is available for companies experiencing higher usage and longer runs, or for those who need rewound labels for use with a label applicator or dispenser.
"The combination of price point, quality, and ease-of-use really sets the L501 apart from other printers on the market," says Atkins.
The L501 has print resolutions up to 2400 x 1200 optimized dpi for vividly colored labels, and up to 1200 x 1200 optimized DPI for rich and crisp black printing. It is compatible with a wide range of paper, polyester, polypropylene, and vinyl label stocks, and supports gap, black mark, and continuous media.
The Afinia Label L501 Color Label Printer is now available through Afinia Label's worldwide network of dealers. For more information, contact your local Afinia Label Dealer, or contact us.