We will be showing our latest printers, the Afinia Label L801 Color Label Printer and R635 Laser Label Printer, at LabelExpo Europe in Brussels, Belgium from 29 September – 2 October in stand 8A29. In addition, an important mini digital label press (DLP-2000), finishing system (DLF-1000), and a new label applicator (A300) will be shown.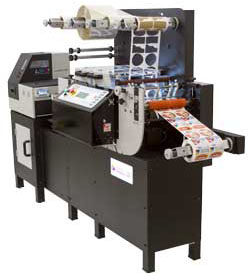 "We will be making a very strong showing at LabelExpo Europe this year." said Scott Coates, Afinia Label UK's Business Development Manager. "We will be showing our entire line of label printers, inline label finishing, converting, and application equipment. When combined, we have the industry's fastest and least cost end-to-end label solution."
Afinia Label's Solutions
The Afinia Label L801 Color Label Printer is powered by Memjet technology, which gives it a print speed of 60 feet per minute and an industry-leading ink cost of less than 3 cents for a 4" x 6" label with 75% coverage. This is a fraction of the cost of other inkjet label printers. The L801 supports 3 print modes: Roll to Roll, Roll to Cut, Print & Hold.
The Afinia Label R635 Laser Label Printer is a single-pass, 4-color, LED-based, low-temperature laser printer that runs at 30 feet per minute. Designed for mid-range and industrial printing, the R635 offers cost-savings by bringing label printing in-house. In addition to printing prime labels for industries like coffee, wine and specialty foods, the R635 is used by many companies for private labeling of chemicals because of its ability to create output that meets GHS and BS 5609 requirements.
The Afinia Label DLP-2000 Mini Digital Label Press works inline with the Afinia L801 Color Label Printer to laminate, rotary die-cut, remove matrix, slit, and roll labels. The DLP-2000's rotary die-cutting system creates finished label rolls with uncompromised backing. These labels are very reliable when used with inline label applicators and avoid line stoppages caused by punctured backing.
The Afinia Label DLF-1000 Digital Label Finisher works with the label output from the Afinia Label L801 and R635 to laminate, plotter-cut, remove matrix, slit, and roll labels.
About Us
Afinia Label emerged as a digital label printing system leader in 2012 when they collaborated with Memjet to create a commercially viable narrow web label printing solution. We are now one of the largest distributors of Memjet-based label printers in the world.
Afinia Label is a division of Microboards Technology LLC, a leader in specialized printing solutions. Our twenty-year history includes leadership in disc duplication, 3D printing and, most recently, digital label printing.