High-Impact Labels; Low-Impact Cost.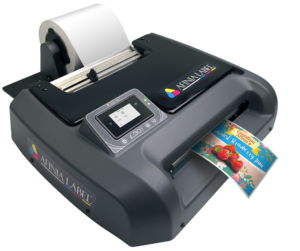 Initially, many start-up businesses and brands have their labels printed by third parties instead of printing in-house with a color label printer. Initially, when the small business is just starting out this makes sense, as there are several advantages:
Quick start-up
Professional-looking labels
No investment in equipment or consumables
However, as label consumption increases, a case can be made to print labels in-house by making a modest equipment investment. Although there is upfront cost of equipment, the savings can lead to quick—and substantial—ROI. These savings are the result of numerous in-house professional label printing advantages:
Print as many labels as you need, when you need them
Alter label designs on-the-fly to accommodate ingredient or government regulation changes
Create "one-off" labels for product testing or seasonal promotions
Private label your products for your customers
Respond quickly to your customers' case or pallet labeling requirements
Virtually eliminate obsolete labels
Eliminate pre-printed label inventory
The Logical Choice for Small Business Label Printing
The Afinia Label L301 Label Printer for Small Business is a logical choice. The L301 is the beginning of Afinia Label's professional-grade label printer product line. Powered by time-tested HP thermal inkjet printing technology, the L301 professional label printer can go to work for just about any label application. Just plug it in to your computer, install the included software, and you are ready to print labels from your existing design software or from a pdf.
Bringing your label printing in-house will give you the freedom to:
Control when your labels are ready and how many there are
Be flexible enough to take advantage of time-sensitive opportunities
Right out of the box, the industrial L301 is ready to print pre die-cut labels from 2″ (51mm) to 6″ (152mm) wide. With its optional powered label roll caddy, the L301 can print labels up to 8.5″ (216mm) wide, large enough to cover a one-gallon jug of your product.
So, what happens when you out-grow your L301 professional label printer? Keep it for small projects and consider investing in our Memjet-powered L801 industrial label printer.