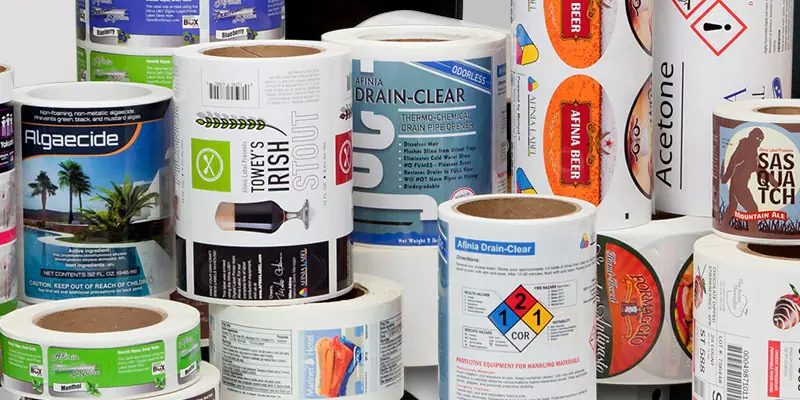 If your product-based business is growing, you're likely knee-deep in questions on scaling up production. While considering what investments you might need to make in order to meet demand and fulfill orders, this guide will help make your product labeling decision the easiest one.
At Afinia Label, we offer specialty printing solutions to help you bring custom product label printing in-house. In the following article, you'll learn why thousands of businesses across America choose Afinia label printers for their custom label printing needs. We'll dive into everything from what industries can benefit from in-house label production to when's the right time to upgrade to an industrial-grade color label printer and why they're superior.
Product labels are designed to distinguish products in the marketplace. They come in an unlimited array of shapes and sizes but typically feature a brand name, product name, product description, ingredient list, directions for use, and more.
They're different from point-of-sale barcode labels and ecommerce shipping labels for which a dedicated thermal label printer is sufficient. Product labels are designed to capture a consumer's attention, drive sales, enhance brand perception, and more. For this reason, having high-quality product labels is incredibly important — they're your product's first impression.
Product labels are also a necessary part of the process of getting your product to market.
How Do You Make Product Labels?
To create the perfect product label, consider the size and shape label you want. Measure your container and test out different sizes and shapes until you find the right fit. There is no one-size-fits-all product label and no right or wrong choice. This is a subjective art!
Next, get started on the design. There are dozens of label design programs online that you can use to create the right look for your business. You may also want to outsource the project to a graphic designer or task your in-house marketing team with the responsibility.
Once you have a design in-hand, it's time to figure out the logistics of your label production.
You have two main options that appeal to businesses at every stage of the process: outsource the job or print the product labels yourself.
Outsourcing Label Production
When product volumes are high, predictable, and designs do not change frequently, sending your labels to a local printer or specialty print house may be your best answer. 
Local Printers
Office supply stores like Staples and Office Depot can print labels quickly and save you time. They typically use commercial laser printers that produce quality results and can be ordered and picked up around the corner from your home or office. Your designs can be printed in color and will come on standard 8.5" x 11" label sheets.
Per-label costs could be higher here, but it is a convenient option for some.
Print Houses
If you have unique print needs and/or extremely high-quantity orders, print houses utilize multi-million dollar presses such as the HP Indigo or Domino. They range from online companies like VistaPrint to large, label-only print shops.
These types of product labels are commonly made using printing plates, which carry costly upfront fees and require longer lead times for production. They come on rolls and are designed to be used with label applicator machines.
Printing Your Own Product Labels
On-demand label printing affords businesses control and flexibility. For small and large businesses, printing custom product labels is the best choice.
Explore your options:
DIY Label Printing
DIY label printing is best for small businesses and start-ups with low-volume production. This process is typically done on a standard desktop inkjet or laser printer, or a commercial office laser printer. The machines only accept sheets of paper (from envelope size to tabloid) and can print up to 50 pages per minute (PPM). Common brands include HP, Canon, Xerox, and Brother.
In-House Label Printing
Give your items a premium look with professional product labels. Digital label printers offer dramatically different capabilities and results than regular desktop or commercial printers. They are designed to print high-quality labels and are ideal for mid- to high-volume businesses, or where a high mix of design or label information is required.
Digital label printers and product label printers can be desktop units or standalone pieces of equipment, depending on which model and accessories you choose. Depending on the model, they accept roll labels from about 2 to 13 inches wide and can print up to 12 or more inches per second (IPS). Popular brands are Afinia Label, Primera, and Epson.
Afinia Label proudly supports the following sectors and industries: